We are excited to announce that the Fitness Center reopened on Monday, May 18 at 25% capacity.
The health and safety of our Texas Health Huguley Fitness Center members, our hospital staff and our community continue to be one of our top priorities. In order to keep you safe, we will be adhering to the following guidelines:
All Fitness Center members will be required to practice social distancing.
Members will be asked to scan their membership card or Huguley badge for a "touchless" check in.
Members are required to wear gloves that cover from wrist to fingers while exercising.
The locker room and showers will remain closed.
Pools will remain closed.
Aerobics classes will be limited to 10 participants per class. Participants are required to reserve a spot by contacting the front desk.
Members will be asked to disinfect equipment before and after use. Hospital grade disinfectant spray bottles and wipes are spaced throughout the facility.
Free weight equipment and circuit machines have been spaced appropriately on the gym floor.
All other cardio equipment will be powered off to encourage social distancing.
Fitness Center team members will be wearing masks and will be temperature screened each day before beginning their shift.
Members and guests are encouraged to wear a mask while entering the gym.
Kids Klub will remain closed during the first phase of our reopening.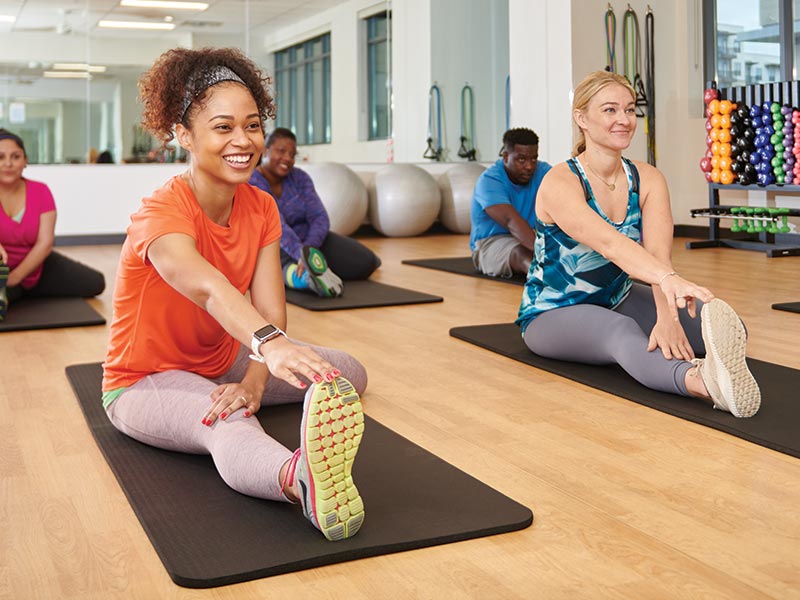 Group Classes
At Texas Health Huguley Fitness Center, we offer multiple exercise classes each week for all fitness levels.
Fitness Center Services and Programs
Treadmills, bikes and ellipticals with built-in TV monitors
Free weights and cable-controlled equipment
Aquatic Center with lap and therapy pools
Racquetball, basketball and volleyball courts
Indoor and outdoor tracks
Women's workout area
Certified personal trainers*
Massage therapy*
On-site childcare*
Group exercise classes (free with membership)
Locker facilities
Complimentary fitness consultations
Family-focused programming
Fitness and nutrition coaching*

*Additional fee required.

Fitness and Nutrition Coaching

Want to achieve your goals? Consult our experts in fitness and nutrition today. To schedule a coaching session, call 817-568-3131.

Separate fees apply.

Whether you're new to the water or a seasoned swimmer, our Aquatic Center has lots to offer. The center hosts two pools, one Jr. Olympic and one Therapy pool. Lap lanes are available for open swim. Our certified water instructors teach a variety of classes to cater to every fitness level. Join us for the ultimate water workout.

While parents exercise, their children can enjoy the outdoor playground, crafts, video games and movies at the Kids Klub. The childcare providers plan theme days and special activities so both parents and children look forward to their visit to the Texas Health Huguley Fitness Center.

Call 817-568-3388 at least 15 minutes in advance to schedule:

Kids Klub Hours:

Monday: 7:45 am – 1:30 pm & 4 pm – 8 pm
Tuesday: 7:45 am – 1 pm & 4 pm – 8 pm
Wednesday: 7:45 am – 1:30 pm & 4 pm – 8 pm
Thursday: 7:45 am – 1 pm & 4 pm – 8 pm
Friday: 7:45 am – 1:30 pm
Sunday: 3 pm – 5 pm

Separate fees apply.

Locker rooms with plenty of personal space allow you to change into your workout gear with ease.

Fitness is for people of all ages. Texas Health Fitness Center Burleson hosts classes and individual sessions with seniors in mind.

Schedule
Fitness Membership Request
For more information on memberships, please call 817-568-3131 or request information with this online form.