Become a Member Today!
Here at Texas Health Fitness Center we have something for everyone to help you build a lifestyle you can be proud of. Begin your fitness journey today with the latest equipment, heart-pumping unlimited group classes, and access to individualized coaching with world-class certified personal trainers — all within your community gym.

Jog in to see why we were voted Best of DFW Silver Award for 2021.
Mon – Thu: 5 AM to 9 PM
Fri: 5 AM to 7 PM
Sat: 8 AM to 5 PM
Sun: 8 AM to 4 PM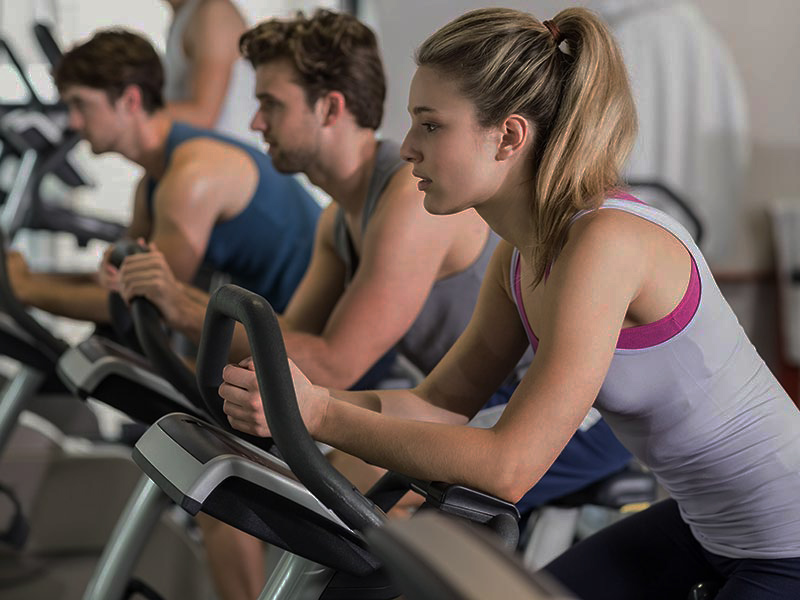 Group Fitness Classes
At Texas Health Fitness Center Willow Park, we offer a variety of group exercise classes for people of all ages and skill levels. Our classes are free with any membership, check out our schedule and sign up today to begin your fitness journey!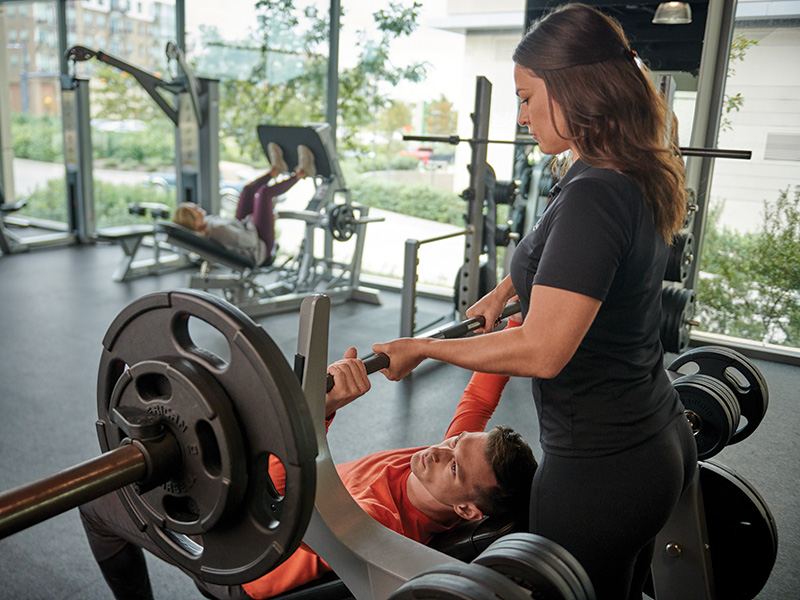 Personal Training
From looking to flex new muscles in the new year to improving and perfecting your form with every rep, our team of world-class certified personal trainers create custom fitness programs designed 100% around you to help you reach your next goal.
Services & Amenities
From the equipment to the expertise, Texas Health Fitness Center Willow Park has the services and amenities you need to help you achieve your fitness goals.
Advanced cardio equipment featuring built-in TV monitors
InBody Scale
Spacious free weight training area
Top-of-the-line strength training equipment
Wi-Fi

Clean & Spacious Locker Rooms

Our locker rooms, showers, and restrooms are all currently open. We keep our facility up to date on COVID cleaning protocols.

Members are encouraged to bring their own clean towels and take them home each day.

Complimentary Fitness Assessments

Available for new and existing members. Enjoy up to 60 minutes free with a personal trainer to get a one-on-one orientation, utilizing our cardio and strength equipment. You'll discuss your fitness goals based on your specific needs and medical history.

We strive to positively impact people's lives through our digital wellness platform, engaging events, and design and management of fitness centers that truly drive lasting change in clients' well-being. Combining our years of experience in the health and fitness space with the latest wellness technologies, we provide a holistic approach and programs suited for a wide variety of audiences. We work with our corporate partners to develop a custom wellness solution suited to their employee population.

Services Include:

Corporate Membership pricing for our 9 fitness center locations
Dedicated Account Manager
Educational Seminars: Mindfulness, Sleep practices, Meditation, Nutrition, Workplace Ergonomics, and more
Group Fitness Classes: Yoga, Bootcamp, Boxing, Spin, and more
On-site Program Coordinator
Workshops: How to Pack a Healthy Lunch, Ways to Get in Your Extra Steps, and more
On-site Events: wellness fairs, challenges, and more
Digital Fitness App
Fitness Facility Design and Management

Design & Layout
Equipment Procurement
Graphic Branding
Facility Management
On-site/Virtual Fitness

(SENSE) Exercise classes & Educational Seminars-Virtual/In-Person

Sleep
Exercise
Nutrition
Stress Management
Enjoy Life-Engagement

Digital Programming

Centralized Connection
Challenges
Virtual Coaching
Data & Analytics
Swag Shop

*Additional fees apply

We have worked with our partners to expand our wellness services to cater to their customized needs. Contact us today to discuss your corporate wellness goals and how we can customize a solution for your organization.

Want to achieve your goals? Consult our experts in fitness today. To schedule a coaching session, call 817-757-1550. Separate fees apply.

Group classes and personal training are available for people of all ages and skill levels.

Balance & Core: This class utilizes a wide range of equipment and fun exercises that not only challenge your balance, but also engage your core to improve overall body stabilization, strength, and control.
Body Sculpt: The perfect early morning get it done class! Mixing full body cardio moves with heavy and light weights to maximize fat burn and promote a lean and sculpted body!
Bodycombat: An empowering cardio workout inspired by martial arts and draws from a wide array of disciplines such as karate, boxing, taekwondo and tai chi. You will strike, punch and kick your way through calories to superior cardio fitness.
Bodypump: A class designed to challenge all your major muscle groups by using the best weight room exercises such as squats, presses, lifts and curls. Using light to moderate weights of your choice, with lots of repetition, this class gives you a total body strength workout. (Class max of 16 – pass required)
Cycle & Sculpt: An incredible combination of a fat torching class and full body sculpting! You're on the bike tearing it up one minute, then on the floor lunging and doing push-ups the next. (Class max of 13 – pass required)
Cycle: An indoor cycling class with exhilarating music at a self-directed pace. The instructor simulates a ride where you will travel on flat roads, climb hills, sprint and race! It is truly a fantastic cardio workout. (Class max of 13 – pass required)
Gentle Yoga: A therapeutic yoga class aimed to improve your strength, balance, flexibility, breathing exercises and mind body connection. Modifications are provided for everyone's needs! (Class max of 21 – pass required)
HIIT: A High Intensity Interval Training class that promotes high calorie burn after the workout is over. Bodyweight, plyometric and traditional strength training exercises are blended with cardio exercises to give you a complete total body workout. Try our Express HIIT for a cut down version.
Power Yoga: A form of yoga that involves a Power flow of poses that are mixed with held positions to develop strength and flexibility. Poses are held longer in order to learn the fundamental postures & increase strength while practicing linking breath to Asana. (Class max of 21 – pass required)
RPM: Les Mills' take on indoor group cycling. The instructor pushes you through hills, flats, and sprints using various riding positions and speeds! The ride will be set to the latest fun and hard-hitting tunes. (Class max of 13 – pass required)
Total Abs: A quick 25-minute class that focuses on all things abs! Creative exercises utilizing bodyweight, Bender Balls, bands and dumbbells are used to strengthen and lengthen all the core muscles.
Total Body Toning: We will get you a head to toe toning workout in this freestyle format class! We will use bars, dumbbells, barbells, and more to achieve this high rep, low impact, and fun workout.
Total Strength: This class includes circuits of total body strength training using dumbbells, kettlebells, body weight and plyometric exercises. Weight choice is personalized so that each member gets a well-rounded total strength workout!

All classes listed are included in memberships and are ongoing, unless otherwise stated, so join at any time! Classes and instructors are subject to changes. Classes may be cancelled or times may change due to low attendance. Check our schedule here.

Food is fuel and our Nutrition Experts can educate you on healthy nutrition practices meant for your culture and goals. Want to achieve a healthy lifestyle? On-site Nutritionists can provide individualized nutrition counseling and more. Consult our experts today!

*Additional fees apply

Our team is passionate about helping you get motivated, see results and have fun while reaching your personal fitness goals. From weight loss to gaining strength and stamina, our certified personal trainers are ready to help you transform your health and well-being.

Our Certified Personal Trainers provide:

A complimentary new member training assessment
Customized workout plans to help you meet your specific goals
Instruction on using proper training techniques to avoid injury
Nutrition coaching and counseling

Services include:

1-on-1 Personal Training - Work 1on1 with a trainer to achieve your individual fitness goals
Semi-private Training (up to 4 trainees) - Train alongside friends or family members to hold each other accountable and also save money at the same time.

*Additional fees apply.

Premium Fitness Equipment

Dumbbells 5-100 lbs.
Ellipticals
Freemotion Pin-loaded Strength Line
Freemotion Plate Loaded Strength Equipment
Matrix Squat Rack
NuSteps
Recumbent Bikes
Rowers
Stairmaster
Treadmills
Upright Bikes