The Inpatient Rehabilitation Center at Texas Health Presbyterian Hospital Dallas is designed to create a safe space to participate in intensive therapy for those who have experienced a decline following an acute injury, surgery, or worsening of a chronic illness. The facility provides daily therapy to patients, round the clock nursing care, and oversight by physicians on the medical staff.
FAX: 214-345-7452
Our goal is to provide high quality, compassionate care with value and innovation by helping patients in the performance of activities that contribute to optimal health, function and recovery.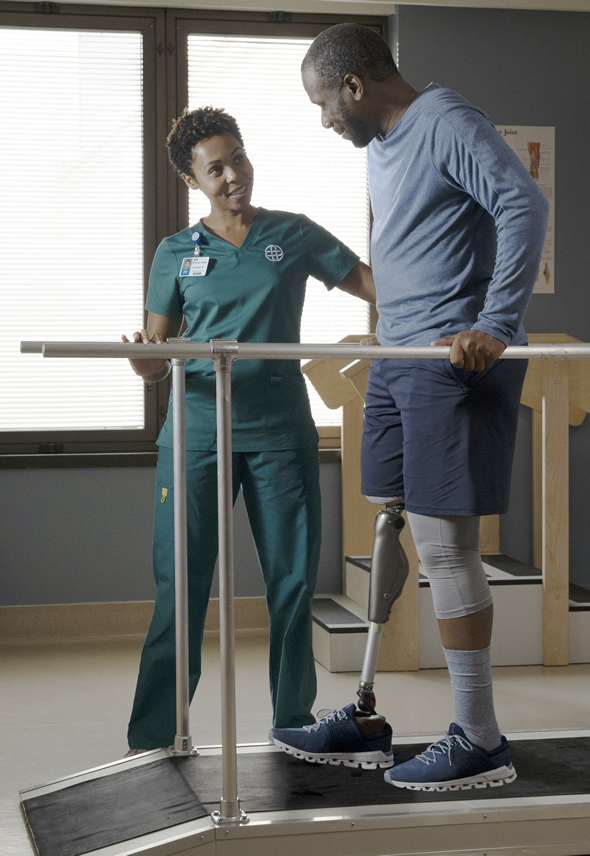 During your stay you will participate in three hours of therapy a day at least five days a week, or a minimum of 15 hours a week. Your multi-disciplinary care team will consist of your physician, nurses and social workers. An individualized care plan will be put together for you by physical, occupational and speech therapists to provide intensive rehabilitation focused on functional mobility and independence to get back to daily life in a safe and timely manner.
Conditions treated include:
Brain injury
Stroke
Post-surgical (orthopedic conditions)
Amputations
Spinal cord injury
Systemic conditions treated include:
Parkinson's Disease
Multiple Sclerosis
Guillain-Barre Syndrome
Amyotrophic Lateral Sclerosis (ALS)
Muscular Dystrophy
Inpatient Rehabilitation Programs
The department provides 24/7 nursing care and rehabilitation therapy for three hours per day at least five days a week.

Rehabilitation Therapy Hours:
Monday to Friday 8:00 a.m. – 5:00 p.m.
Saturday and Sunday 7:30 a.m. – 5:00 p.m.

Patients are admitted to the Inpatient Rehabilitation Center present with various diagnoses including Cerebral Vascular Accidents (Strokes), Lower Extremity Amputation, Brain Injuries, Spinal Cord Injuries, Traumatic Accidents, and Joint Replacements. Functional levels of patients vary from mild to severely involved and complex functional impairments. Care is provided to adult (18+) patients who can tolerate three hours of intense rehabilitation services per day.

Our skilled rehabilitation team meets frequently to discuss each patient's care plan and participates in team rounding to ensure progression towards your goals. The care team includes:

Rehabilitation physician on the medical staff
Registered Rehabilitation Nurses
Physical Therapists
Occupational Therapists
Speech Therapists
Care Transition managers
Nutritional counseling

Inpatient rehabilitation has focused programs that provide care for the whole person including:

Medication management
Mobility
Patient education
Family education and training
Skin integrity
Cognition
Cultural needs
Psychosocial needs and barriers
Prosthesis/orthotics training
Education and access to community programs

Services provided are offered by Texas State licensed and registered Occupational Therapists, Physical therapists, Speech Language Pathologists and Registered Nurses.

Physical Therapy - Physical Therapy Services are provided to patients with physical disabilities that limit their ability to function.

Occupational Therapy - Occupational Therapy services are provided to patients with physical disabilities to help them resume a meaningful, productive role in society.

Speech and Language Pathology (SLP) - SLP services provided include, as appropriate, interventions and/or discharge recommendations that focus on communication, cognition, swallowing, fluency, articulation, pragmatics, voice, and oral motor skills.

Nursing Services - The Registered Nurses assess the patient's response to actual or potential health care problems, diagnose nursing needs, achieve outcomes, plan care, implement the plan of care, and evaluate the patient's response to the care.

Case Management – The Case manager (social worker or registered nurse) will help the persons served make plans for care and living arrangements following discharge.

Nutritional Care Services – A member of the dietary team determines nutritional requirements and provides appropriate diet recommendations as necessary.

Rehabilitation Activities

An individualized care plan will be established to increase your independence and functional mobility to ensure a safe transition back home. Some of the activities you may participate in include:

Multi-disciplinary assessments
Gait and balance training
Speech and swallowing care
Cognitive Therapy
Assistive Device Training
Wound care
Prosthetic/Orthotic training

The Inpatient Rehabilitation Center is in network for many insurance plans and accepts most insurance plans. In addition, we provide unfunded care on a case by case basis. For persons served that need to pay out of pocket, a rate is established with Patient Access Services.

For more information, call 214-345-4820.

Referral to the program must be made by a licensed physician in the state of Texas. Contact your doctor for more information or call the Inpatient Rehabilitation Center at 214-345-4820.

The Inpatient Rehabilitation Center at Texas Health Dallas is accredited for the Stroke and Amputee Specialty Programs by the Commission on Accreditation of Rehabilitation Facilities (CARF).
Texas Health Dallas is accredited through the ANCC Magnet Recognition program for distinction in health care and nursing excellence.
Additional accreditations held by Texas Health Dallas include:

The Joint Commission Accreditation for Stroke, Heart Failure and Chest pain
Nurses Improving the Care of Health System Elders (NICHE) for inpatient Care
American College of Surgeons (ACS) for Level II Trauma
Texas Department of State Health Services (DSHS) for Trauma
Physicians on the medical staff at a Texas Health Resources facility are independent contractors who are engaged in the private practice of medicine or are licensed practitioners participating in the care of patients as part of a post-graduate medical education program. They are not agents, servants or employees of the facility. The incorporation of their actions in these guidelines is not intended to control, influence or warrant their medical judgment or professional actions.